"Floridians have less than a year to get their upgraded driver's license," says Ellsworth Buck, Vice President of GreatFlorida Insurance, Florida's top independent auto insurance agency.
Beginning October 1, 2020, every air traveler must present a REAL ID-compliant driver's license, state-issued enhanced driver's license, or other acceptable forms of identification, such as a valid passport or U.S. military ID, to fly within the United Sates.
Those who are unable to verify their identity will not be permitted to enter the Transportation Security Administration (TSA) checkpoint and will not be allowed to fly.
"This is an important step in enhancing commercial aviation security and we urge travelers to ensure they have compliant documents," said Acting Secretary for Department of Homeland Security, Kevin K. McAleenan. "DHS is committed to working with states as they continue their efforts to issue REAL IDs to Americans."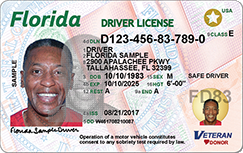 "This might come as a surprise to many, but REAL IDs have been in the making for a while," says Buck, Vice President of GreatFlorida Insurance, Florida's biggest independent auto insurance agency.
Passed by Congress in 2005, the REAL ID Act enacted the 9/11 Commission's recommendation that the Federal Government "set standards for the issuance of sources of identification, such as driver's licenses."
DHS reports only 27 percent of Americans own a REAL ID. How do you know if your ID is acceptable? A REAL ID compliant card in Florida, has a gold star in the upper right-hand corner.
In order to get your REAL ID compliant card, Floridians must visit a DMV office and bring original documents validating their identity, Social Security number and residential address. If there is no gold star on your drivers license or ID card, you cannot renew online.
Previous driver license and ID cards will still be in use alongside the new credential until replaced or phased out, according to the Florida Highway Safety and Motor Vehicles, (FLHSMV).
Check to see which documents you need to bring to get your REAL ID compliant card at
GreatFlorida Insurance covers all your auto insurance needs, contact us today.